Featured Article
August 2014

- Takeya Shizen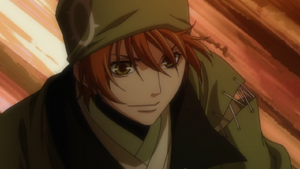 Takeya Shizen (竹谷ゼン, "God Fearing Nature") is a Chunin-level shinobi hailing from Getsugakure and is a member of the Shizen Clan. As a member of the Shizen Clan, Takeya has diluted Senju Clan blood running through his veins, allowing him access to the Floral Release and the ability to communicate with the various animals in nature. 
From a young age, Takeya was chosen, along with Yuuma Amaterasu, in order to be one of two hosts of the two Tailed Beasts located in Getsugakure after the Fourth Shinobi World War, in Takeya's case being Chōmei....
Read more at Takeya Shizen
Quote of the Week
I have become more than you could have ever imagined. His experiments performed upon myself have caused me to become stronger than you could ever imagine. You shall all fall below my feet. I will prove here and now. Legitimacy is not a necessity for power!
- Harumasa Nanbu[src]