Currently looking for help on new ideas and concepts advice. Please feel free to message me.
"We're taught Lord Acton's axiom: all power corrupts, absolute power corrupts absolutely. I believed that when I started these books, but I don't believe it's always true any more. Power doesn't always corrupt. Power can cleanse. What I believe is always true about power is that power always reveals."
— Robert Caro
"It is not power that corrupts but fear. Fear of losing power corrupts those who wield it and fear of the scourge of power corrupts those who are subject to it."
— Aung San Suu Kyi
"We are taught to remember the idea, not the man, because a man can fail. He can be caught. He can be killed and forgotten. But 400 years later an idea can still change the world."
— V for Vendetta
"ATTENTION INFERIOR LIFEFORMS!"


This article, ArtistOfTheDaleks, is property of the ArtistOfTheDaleks. Disturb my empire without permission and you shall be Exterminated!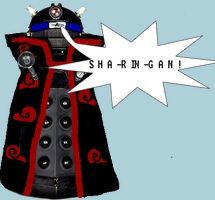 Hello I am a devoted user of NF and wish to help out in any way. Also if you want to use my techniques or tools please ask first. I won't bite.
My favorite pages